For as long as I can remember I have always enjoyed a nice cup of tea. I inherited my love of tea from my mum who taught me that black tea should be drunk medium weak to enjoy its flavours. Being dairy free means that I enjoy all my teas milk free. I have tried on a couple of occasions to add milk but I just can't bring myself to drink it. I use my blog to share my tea experiences with a new tea review every Tuesday. My mum decided in her wisdom that my tea reviews would look more inviting if undertaken in a nice cup and saucer. So she bought me this wonderful teacup set for my blog. I love my teacup and it makes a drinking a cup of tea a pleasurable experience. I frequently receive many comments about it and asked where can be purchased from. Sadly, it is getting a little overused so my mum has been on the hunt for a new teacup for my blog. So here is the new addition to my teacup collection that will hopefully soon be making an appearance on my blog.

I am lady who loves her cups of tea. Sometimes I can be a little naughty and find myself having a bit too much caffeine. Despite this I am still on my mission to reduce my caffeine intake continues and I am always on the look out for a new caffeine free tea to try. I tend to find lemon and ginger a nice comforting tea so when I popped into Tesco's recently I decided to grab a box of their lemon & ginger tea to try.


I fell for vibrant orange colour of the packaging of this tea. Its swirl patterns are the same to that found on Tesco's other fruit and herbal teas. The tea is clearly marketed as being caffeine free. I personally liked that there was no fancy description about the tea, just its flavour and that it is caffeine free.


Onto the ingredients list. Ginger (38%), dried apple, rosehip, flavourings, lemon peel (3%) and lemon grass (2%). I am always personally put off by generic flavourings and would like to know exactly what this means. There are no allergens highlighted in the ingredients list and no may contain warnings.


On opening the cardboard box foil packaging is revealed, great for keeping the teabags fresh. I was immediately hit by the aroma coming from the foil packaging once opened. There was a very strong aroma of ginger and lemon. This remained the same on my close up sniff test and was even very noticeable on sniffing an individual teabag. I was suitably impressed as with many teabags I have tried this has simply not been the case. I placed my teabag into my teacup and added my freshly boiled water as instructed. What immediately struck me was the immediate ginger aroma coming from the tea. I infused the tea with the hot water as instructed for 3 minutes. On removing the teabag there was a distinct aroma of ginger with subtle undertones of lemon noted. This slightly intensified on my close up sniff test. On sipping the tea I was initially hit with the ginger element proceeded by the faint subtle undertones of lemon. I found this tea to be comforting and soothing on my stomach and refreshing at the same time. I have personally not been suitably impressed with other Tesco's teas that I have tried but this I have to admit surprised me.


So would I recommend this lemon & ginger tea, yes I would. I liked everything about this tea from its aroma through to its flavour. It hit the spot nicely and provided a soothing sensation to my stomach. So thank you Tesco's for producing a lovely lemon and ginger tea.
I have tried a few of Lidl's teas and I have to say I've not been very impressed. When I saw that they had a deluxe range of tea I thought I best give them a try. I decided to try their deluxe blackcurrant & vanilla ones a try.


I fell for the simple packaging. I liked the light purple packaging with pictures of cascading blackcurrants and vanilla flowers. There is a clear window which allows you to see the pyramid bags inside. To the back of the packaging the same design theme continues. The tea is described as being 15 blackcurrant and vanilla infusion pyramid bags with natural flavouring. On the list of ingredients interestingly only 1% is blackcurrant and 1% is vanilla.


On opening the box the tea pyramids were sealed in cellophane. On opening this I was immediately greeted by a sweet aroma. If I'm honest I could only really smell blackcurrant, vanilla and maybe hibiscus. It was a pleasant aroma and a lot stronger than I thought it would be as I have personally found that other teas I have tried have lacked in the aroma department. On checking the pyramids I could see all the varying ingredients inside. Some however are very fine and had found themselves at the bottom of the cellophane packaging. I liked the good length of string attached to the pyramid allowing for easy steeping. Oh and they are also biodegradable which is a big positive.


On placing the pyramid in the cup of hot water I was impressed by how quickly the tea infused and went a light purple colour. I immediately got hit by the sweet aroma from the tea. This was the same aroma I got on opening the cellophane but a lot stronger. I was still unable to distinguish the other ingredients in the tea pyramid. On sipping the tea I could clearly taste a subtle hint of the blackcurrant with the sweetness from the vanilla there was certainly an undertone of other flavours but I could really say what these were. I found the aroma of this tea sweet and pleasant the flavour matched this. I found it a pleasant tea to drink but slightly sweet. It recommends adding honey or sugar to sweeten but I personally think this is not necessary.


So would I recommend these tea pyramids. They are certainly nicer than Lidl's everyday teabags. They had a pleasant sweet aroma and infuse quickly with the hot water. I might not have been able to taste all of the elements within the tea pyramid, but the flavouring was pleasant. They make a nice budget friendly alternative to more expensive teas.
My mum, who I have inherited my love of tea from enjoys her rooibos tea and drinks goodness knows how many cups a day. So I thought it was about time I made effort and tried some new rooibos as an alternative to my mint, lemon and ginger or camomile infusion teas. I happened to stumble across a box redbush tea whilst I was shopping in Marks & Spencer the other day so I decided to give it a try.


I loved the vibrant black and red packaging with an interesting pattern which I would describe as being like mini space invaders. It is clearly labelled as a caffeine free tea to the front of the packaging. I was intrigued by its description as being sweet and mellow with a bright yellow colour.


Onto the ingredients well interestingly there doesn't seem to be any. All I could see was 40 redbush teabags. There is no may contain warning with regards to possible allergens.


When I opened the foil packet I was greeted by a woody aroma that I associate with a rooibos tea. This did not change on the close up sniff test and was still present on smelling an individual teabag.I added the teabag to my teacup and added the hot water and let it infuse as instructed. I was immediately hit by a slight woody and faint grassy aroma which became more apparent as the tea continue to infuse. There wasn't much difference noted with the aroma on my close up sniff test. I didn't expect this and was pleasantly surprised. It didn't seem to take long for the tea to infuse with the hot water. It soon turned a slightly dark cherry like colour not the bright yellow colour described on the packaging. On sipping the tea it tasted like a good quality rooibos, there were undertones of both woodiness and grassiness that I associate with a nice redbush tea. I found the tea to be comforting yet slightly refreshing at the same time. I was pleasantly surprised by this tea as if I am honest it has been a bit hit and miss with the previous teas I have tried from marks & Spencer and didn't expect it to be a nice as it was.


So would I recommend this redbush tea? Yes I would. I enjoyed everything about this tea from its flavour through to its aroma. It is a nice everyday redbush tea. So thank you Marks & Spencer for producing a nice redbush tea that I can enjoy.
‪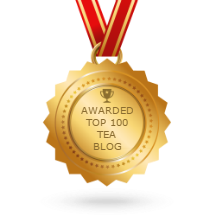 ‬
When I found out that I had made the Feedspot Top 100 Tea Blogs I was completely taken by surprise. I was amazed that my humble little blog had made it in the top 100 let alone being number 49! I initially started blogging about being dairy free I then decide to add my love of cups of tea to my blog. I use my blog as a platform to share my thoughts and opinions on the tea that I try. It has opened a great new world of opportunities for me and I would be lost without it. Tea has now become by far the most popular aspect of my blog and I hope to expand on this in the near future. If there any teas that you would like me to try and review in the future please let me now. In the meantime I will be proudly displaying the medal on my blog.
I am a girl who loves my cups of earl grey tea. It is my tea of choice and I am always on the lookout for new teas to try. On a recent trip to Marks & Spencer I yet again found myself in their tea section. I was running low on earl grey tea so I decided to grab a box to try.


I found the colour the of the grey packaging with its stripes a little dull if I'm honest. If I hadn't need to stock up on my earl grey I wouldn't have given it a second glance. Onto the ingredients black tea 98.5% and flavouring is listed. No allergens are highlighted and there is no may contain warning. On a personal note I wish the flavouring was in more detail.


On opening the box I was greeted by a sealed foil package containing the teabags. I like this as it keeps the tea nice and fresh. On opening the package there was an aroma of what I can only describe as an artificially strong bergamot with a hint of lavender intermingled with this. This didn't change on my close up sniff test. However, on smelling an individual teabag close up this artificial aroma seemed to virtually disappear. I was a little disappointed by this as I had expected the aroma to be stronger.


I placed my teabag in my teacup and added the freshly boiled hot water to let the tea infuse with the hot water for the recommended brewing time. The tea infused with the hot water and turned to a medium brown colour. But what about the aroma? It predominantly smelt like an everyday black tea with only a hint of bergamot noted the lavender had simply disappeared. On my close up sniff test the aroma didn't change. If I was doing a blind test I'm sure that I wouldn't have been able to distinguish as being an earl grey tea. On sipping the tea it tasted like a reasonable quality weaker strength black tea, with a very questionable hint of bergamot noted.


So would I recommend this earl grey tea? I'm afraid not. I'm afraid I simply didn't enjoy anything about this tea from its aroma through to its flavour. I have tried nicer own brand earl grey teas. Sorry Marks & Spencer but this earl grey tea just wasn't for me.
As a lady who enjoys her cups of tea on a daily basis I am always on the lookout for new teas to try. I am really enjoying my quest to find new caffeine free teas to try. So when London Tea Company contacted me and I asked if I wished to try some of their teas I said yes. One of the samples they sent was a zingy lemon and ginger tea. I saved it until the new year to try as part of my quest to really reduce my caffeine intake.


I liked the design of the packaging with this tea. It was bright vibrant orange with picture of the logo of the London Tea Company in the style of a table and chair. On top of the table is a cup of tea. Simple yet clever. Onto the ingredients this surprised me a little if I am honest as apple pieces are listed as the first ingredient. There are there no allergens highlighted or any may contain warnings listed. It is also labelled as being suitable for a vegan diet. On opening the tea I was immediately hit with the aroma of apple with faint undertones of ginger and lemon. This surprised me although apple was listed as the first ingredient I expected the teabag to smell of lemon and ginger, not apple. On my close up sniff test this aroma didn't intensify and remained the same.


I placed the teabag in my cup and added my freshly boiled hot water. The hot water soon changed to a pale misty style yellow/orange colour. I left the tea to infuse with the hot water as instructed. I could predominantly smell the ginger with a subtle undertone of lemongrass. The apple aroma seemed to disappear. On sipping the tea my taste buds initially seemed to get hit by lemon followed by a warming ginger. This made a pleasant change as sometimes I find the ginger to be a little too strong and overpowering. I enjoyed this tea it was refreshing yet soothing on my stomach at the same time.


So would I recommend this tea definitely. It was nice to have a lemon and ginger tea whereby the ginger element was subtle and not too strong and slightly overpowering. The combination of the lemongrass and ginger worked well together. This made for a refreshing tea. So thank you London Tea Company for producing an enjoyable lemon and ginger tea.
Disclaimer I received a free sample of this tea. All opinions in this review are honest and my own.